Friday, June 21, 2019
Vindetech® is industry's first online search tool using VIN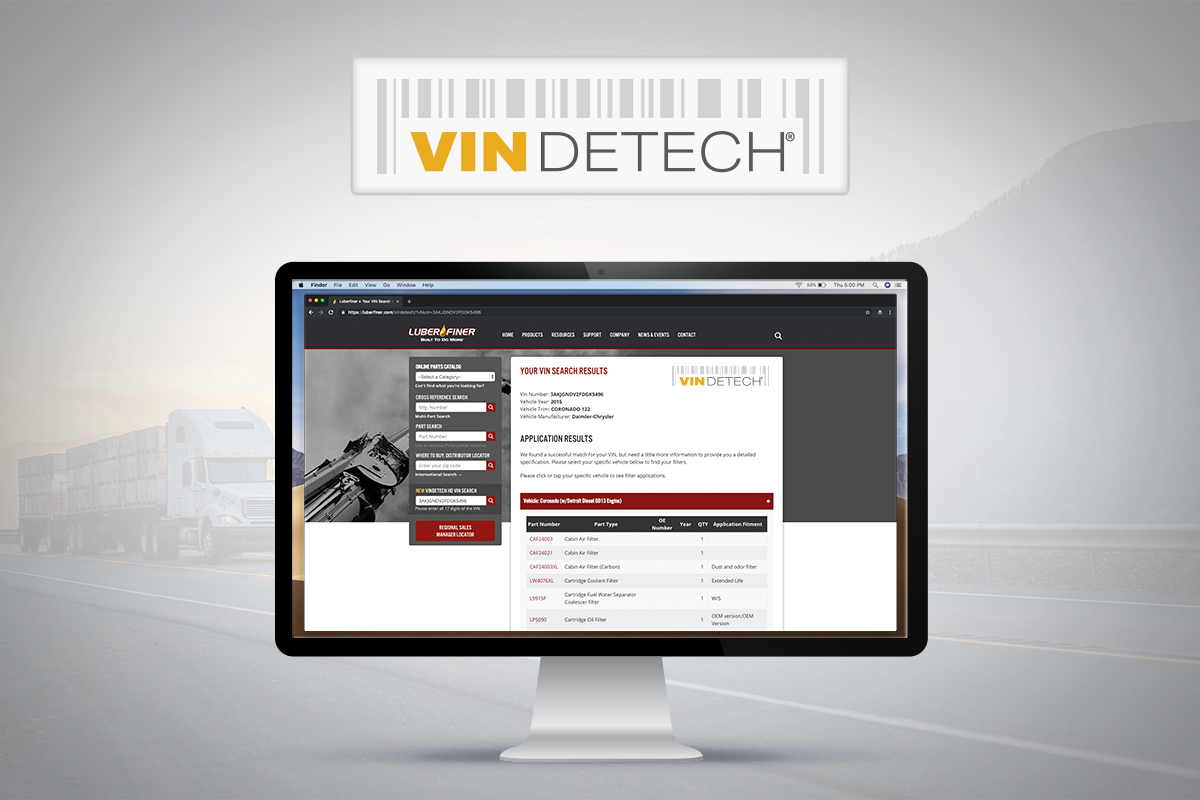 The saying "time equals money" has never been more accurate than when it is applied to today's heavy duty business climate. Since its launch earlier this year, Vindetech by Luber-finer is seeing steady increases in use as distributors discover the ease and convenience offered by using a Vehicle Identification Number (VIN) to ensure accurate filtration alignment.
With more than 5,300 unique users having submitted filtration requests using Vindetech, and more than 9,400 total submissions already made using the new app, the new online search tool is showing how a viable tool can quickly make filtration orders more efficient – and accurate.
Vindetech provides detailed filter alignment with every vehicle based on the entry of the VIN, which is the most accurate way to identify specifications and filtration needs. This can be done one vehicle at a time or as an entire fleet.
With so many variables involved with so many different makes and models of heavy duty trucks, and less time available each day to serve customers, every minute must be used efficiently to ensure a healthy bottom line.
Customers understand the impact of downtime and the value they place on a quick response has never been higher. When it comes to heavy duty filtration, Luber-finer has created a groundbreaking tool that provides immediate impact for efficiency and profitability by minimizing time wasted searching for filtration to fit a vehicle.
Making the job of identifying the perfect filtration solution even more efficient is the availability of the Excel Upload Tool. By utilizing an Excel spreadsheet listing the distinct VIN for as many vehicles as you need filtration, Vindetech can deliver an itemized report outlining every filter and change cycle associated with each VIN.
Due to the potential variation between engines in vehicles from the same manufacturer and even the same model year, it's important to search by the Vehicle Identification Number. You can begin the Vindetech filter search by entering all 17 digits of a vehicle's VIN in the field at the bottom of the left column of any page on the Luber-finer website. The tool confirms the VIN, model year, manufacturer and other vehicle details, then produces a list of the specific filters that are required for servicing that exact vehicle.