Heavy Duty

Fuel/Water Separation Filters
Clean Your Fuel For Improved Engine Efficiency
Diesel fuel quality can have a major impact on engine operation and performance. Fleets must meet emissions standards while trying to maintain efficiency and maximize uptime. A quality Luber-finer® Fuel Filter can remove fuel contaminants, microbes and excess water. Scheduled maintenance and use of Luber-finer®'s Fuel Filters are vital to protecting your fuel system and equipment investment.
Luber-finer® Fuel Filters have:
All-metal housings on spin-on filters
New cartridge filters provide innovative filtration technology for late model engine coverage
Higher pulse fatigue and higher burst strength
High-performance media
Up to 99% filtering efficiency**
Optional "no bowl" construction (where applicable)
Sensor ports for proper OEM sensor replacement (where applicable)
Easy-turn, low-torque valves
Protect Your Fuel System From Water and Contaminants
Emissions regulations have forced diesel fuel to undergo changes that can have a severe impact on engine performance. From debris and particulates transported in fuel storage tanks to condensation and microbial growth in bio fuels, fuel filters help maintain engine efficiency and performance.
Quality Filtration That Protects Your Engine from:
Particulates and debris in the fuel
Water in the fuel
Microbial growth in the fuel
** Based on ISO 19438
---
TotalTec® Fuel Filters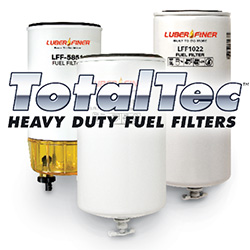 Eliminate fuel filter maintenance with the one-filter, leak-proof replacement solution. Luber-finer® TotalTec® filters will:
Eliminate the need for plastic bowl replacements
Offer efficient filtration
Provide durable, leak-proof construction
Enable easy installation
Remove the need to stock two parts for one filter
---