Heavy-Duty

Lube/Oil Filters
Oil is the lifeblood of the heavy duty engine. Luber-finer® high-efficiency oil filters provide protection from oil contaminants to help ensure optimal performance. Efficient filtration can reduce wear, guard against system failure and promote maximum equipment performance and uptime.
Luber-finer® Oil Filter Products:
Offer an extended line of both spin-on and cartridge style filters
Use filtration media engineered with a variety of natural and synthetic fibers for optimum efficiency, capacity and flow restriction
Include Spin-on filters with deep-drawn steel shells for high burst pressure and impulse-fatigue strength
Include Cartridge filters with the latest innovative designs to provide complete coverage for late model engines
Are engineered with Center cores that resist high-pressure surges
Provide up to 98% efficiency **
Use vibration-resistant sealing gaskets
Quality filtration that protects your engine during:
Frequent idle time
Stop-and-go driving
Heavy towing and weight loads
Steep hill/mountain ascents
Driving on dusty, dirty roads
Extensive highway driving in hot weather
Sub-zero climate operation
Cold start-ups
** Based on ISO-4548-12
---
Imperial XL (Extended Life)*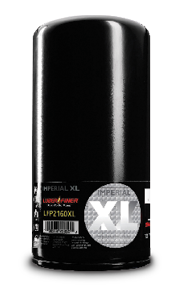 Exceptional filtration for high-dust applications that can:
Extend drain intervals
Aid low-temperature startups
Increase full-load performance
* When using Luber-finer® IMPERIAL XL filters, we strongly recommend the use of Luber-finer®'s oil analysis, LOSK1, as well as consulting your engine manufacturer's maximum extended oil and filter change intervals. For extended drain intervals, use LOSK3 Oil Analysis. Approach extended time between oil changes and filter replacement with caution.
---
Time Release Technology (TRT™)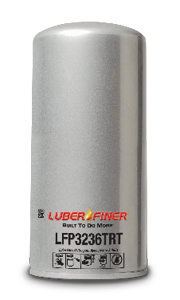 Featuring an innovative linear additive release that can:
Reduce operating costs
Reduce oil usage and removal
Extend oil-change intervals*
Impede oil additive package depletion
* Any decision to extend oil drain intervals must be based on oil analysis and adherence to OEM criteria for acceptable oil operating properties. Operating properties may include, but are not limited to, TBN, soot, viscosity and fuel dilution.
---