Monday, March 09, 2015
Luber-finer® Product Lines and New Online Training Featured March 26-28 at MATS, Booth No. 17044
Perrysburg, OH, March 9, 2015 – Luber-finer® is proud to announce it will be attending the Mid-America Trucking Show (MATS), the largest annual heavy-duty trucking industry event in the world, held March 26-28 at the Kentucky Exposition Center, Louisville, KY. Stop by Booth # 17044 to learn about new Luber-finer® product lines, the launch of the Luber-finer® University online training and existing filtration solutions that make Luber-finer® the heavy duty brand that is Built To Do More™.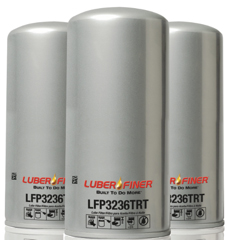 "We are thrilled to be returning to the Mid-America Trucking Show this month," said Alex Arango, Heavy-Duty Brand Manager. "MATS will be an outstanding opportunity for us to meet with the industry representatives and the trucking professionals we value as our customers. We have some great products to talk about."
Luber-finer® Booth #17044 will feature:
The launch of Luber-finer® University, an online training academy focused on providing an in-depth education on the Luber-finer® line of filtration solutions, sales process insights, and a comprehensive guide to providing the highest level of customer service.
The Luber-finer® Time Release Technology (TRT™) Oil Filter line, which has been specifically engineered to help reduce escalating fleet-maintenance costs by extending oil-change intervals and increasing the protection against oil degradation in modern diesel engines.
The Luber-finer® ExtremeClean HD™ Premium Cabin Air Filters with Arm & Hammer™ Baking Soda odor absorption and carbon activation technology that provides cleaner cabin air while eliminating odors and allergens such as bacteria, pollen, smog and dust.
"MATS is a great opportunity to meet our customers and to discuss the challenges they face on a daily basis," said Arango. "It is important for us to work closely with our customers to provide the quality service and filter solutions that will help them be successful."
For more information on Luber-finer® heavy duty filtration products, please visit www.luberfiner.com or call (800) 851-3641. You can also follow Luber-finer® on Facebook, Twitter, LinkedIn and YouTube.
For more than 75 years Luber-finer® has been providing filtration excellence for heavy duty on-highway vehicles, vocational and off-road equipment. Recognized as a global brand leader of dependable heavy duty filter product lines, Luber-finer® combines product value with a commitment to reliable customer service. For more information, visit www.Luber-finer.com
posted by Layne Gobrogge