Extreme Clean HD™

Premium Cabin Air Filters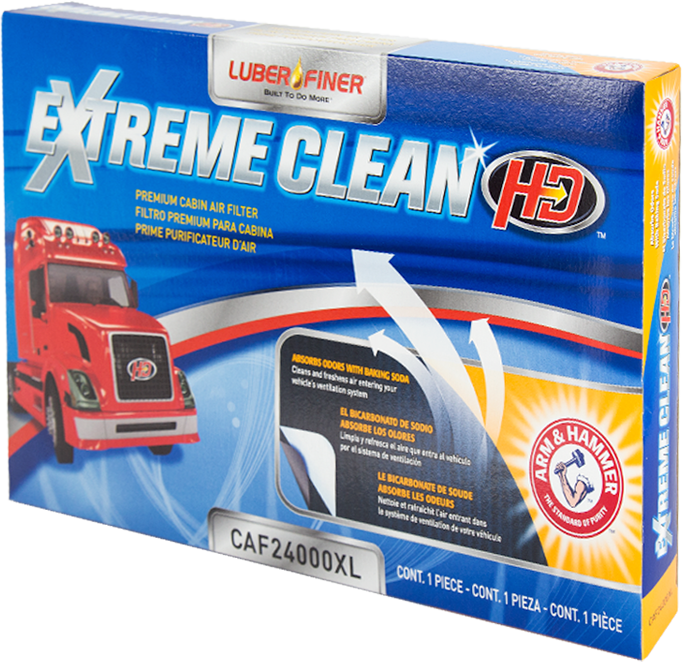 Extreme Clean HD™ Premium Cabin Air Filters
A New Premium Line that traps odors and allergens like never before
Unique product placement with upsell opportunity
Extreme Clean HD Premium Cabin Air Filters
You can protect yourself and any passengers in the cab of your truck from dust, smog and pollen, by changing cabin air filters. Cabin air filters from Luber-finer offer superior performance and long life.
A Luber-finer cabin air filter helps trap bacteria, dust, pollen and exhaust gases that come through your truck's ventilation system. Cabin filters are particularly beneficial for people with allergies. Luber-finer cabin air filters should be replaced according to owner's manual guidelines. You may want to change the filters on a seasonal basis because of the pollutants created in different seasons.
Extreme Clean HD Premium Cabin Air Filters help you breathe clean air!
Clean and freshen your cabin air
Odor absorption
Carbon activation
Featured Video:Luber-finer Extreme Clean HD Premium Cabin Air Filter Product
Applications
Models
LE Part #
OE #
Pack Size
Freightliner Trucks
Business Class, Cascadia, Century, Coumbia, Coronado
CAF24003XL
91559
3/pack
Freightliner Trucks
Century Class, C112, CST 120
CAF24004XL
22-44665-000
3/pack
Freightliner Trucks
Columbia and Coronado
CAF24010XL
8031900159
3/pack
Freightliner Trucks
Century and Columbia
CAF24011XL
91595
3/pack
Freightliner Trucks
Business Class, FL & M2 SEries
CAF24016XL
VCC36000006
3/pack
International Trucks
Prostar Series
CAF24015XL
3839141C1
3/pack
International Trucks
Durastar, LoneStar, WorkStar, ProStar
CAF24005XL
2506656C1
3/pack
International Trucks
4300, 6700, 9670, LP, LPX
CAF24008XL
498144C1
3/pack
John Deere Tractors
7000-8000-9000 Series Tractors;
4920 Sprayer
CAF12000XL
RE187966
3/pack
John Deere Combine
600-700-800 Series J Wheeloaders
CAF12001XL
T156471
3/pack
Kenworth Trucks
T2000
CAF24007XL
52-5507BSM
3/pack
Sterling Trucks
B6500, B7500, B8500 + Others
CAF24014XL
F6HZ-19N619-AA
3/pack
Volvo Trucks
VHD, VN Series
CAF24000XL
20435801
3/pack
Volvo Trucks
VN Series
CAF24001XL
3948712
3/pack
Volvo Trucks
VN Series
CAF24002XL
8089705
3/pack
Western Star Trucks
4900 Series Trucks
CAF24017XL*
RD3-8416-0
3/pack
*Contains 2 filters per individual box (2 filters required for application)
ARM & HAMMER® and the ARM & HAMMER Logo® are registered trademarks of Church & Dwight Co., Inc., and are manufactured and sold by Champion Laboratories, Inc. under license.
---